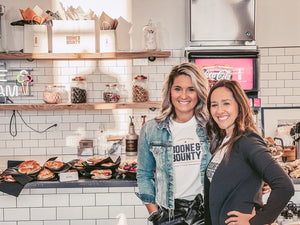 About the Owners
Chrissy Farrant and Kysa Farrant are sisters-in-law, dear friends, and business partners, collaborating as co-owners of Boone & Bounty.
Hospitality and the value of deep community roots comes naturally for Chrissy and Kysa. Kansas experiences that inspire them, such as camping and lake time, country concerts, and family celebrations are apparent in the style of the clothing, decor, and seasonal sets at Boone & Bounty.
The combination of their individual strengths makes them a capable and dynamic team. They enjoy the challenges of incorporating unique styles and discovering the overlap of sophistication and rustic aesthetics.

They've created Boone & Bounty into a destination that combines refined taste with a rugged small town experience.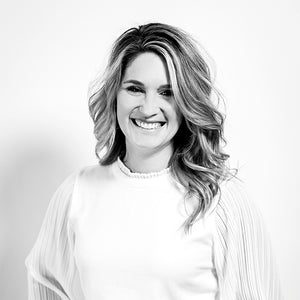 About Kysa Farrant
Kysa grew up in Leavenworth County, and attended K-State, majoring in elementary education. She and husband Jake Farrant always had a dream to fulfill a need in the community. In 2013, together with Jake, her brother-in-law Bryce, and sister-in-law Chrissy,  Kysa opened Creche Academy, a child care center for children age six weeks to 12 years old. She's also a board member of the Woolly Farms Foundation.
Her individual tastes run sophisticated, expansive, and grand with a touch of whimsical. Black and white often show up in her home decor.
Her organizational strength lies in attention to detail, which makes her a gracious and caring presence. She has a huge heart for people, but that doesn't stop her from attempting jump scare people and making them laugh. Her favorite holiday is Halloween.
She and Jake have three children who attend Jeff West schools.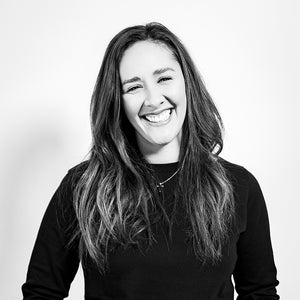 About Chrissy Farrant
Chrissy grew up in Shawnee County, and attended Seaman High School. She graduated college with a degree in respiratory therapy. She and husband Bryce Farrant worked together with Kysa to launch Creche Academy in 2013. Through the years, they've worked closely together on multiple projects in support of Meriden and Jefferson County, including Woolly Farms Foundation, of which Chrissy is a board member.
Chrissy is the big picture visionary for Boone & Bounty, helping set long-term goals, visuals, and ideas into motion.
Her favorite holiday is Christmas because the season and glow of lights feels magical. Her personal style trends toward the rustic, warm neutrals, and homey aesthetics like plaids.
She and Bryce have three children who attend Jeff West schools.
Building History
Boone & Bounty's home at 401 South Palmberg St. is one of Meriden's oldest buildings. Its history includes serving as a church and a funeral parlor.
During renovation, construction crews uncovered boards marked with writing from the 1890's.

MEANING BEHIND THE NAME
Jefferson County was organized in 1856 by Daniel Boone's son, Daniel Morgan Boone, and 10 other founders. The name Boone & Bounty honors this history. A boon is also something helpful or beneficial, a blessing.
Bounty means abundance and plenty, a tribute to the agricultural heritage of Jefferson County and the land that provides for both humans and animals year after year.
Paired together, Boone & Bounty celebrates community, heritage, and provision.